1.Inspection and guidance for internal plumbing systems in government buildings
The"Direct Drinking Project for Buildings of Taipei City Government Agencies and Schools", approved by the city government on January 21, 2019, which is starting the implementation from Taipei City Government buildings, is a project to progressively develop habits of drinking tap water directly, based on an "inside-out" and "public-to-private" approach. Under the project, each internal plumbing system connected to a water meter is called an "unit". According to statistics, there are 1,490 units in Taipei City Government buildings requiring inspection and guidance. As the quantity is very high, we have classified these units into three types by building purpose and prioritized them for inspection and guidance in three phases by importance, to be completed within two years. It is estimated that there will be 564 units being done in 2019, and another 836 units in 2010. By the end of July 2019, 369 units were done already, with a completion rate of 56.4%.
2.Outdoor public areas
To develop the "Direct Drinking" habit in the public and thereby reduce bottled water consumption, we began setting direct drinking fountains in outdoor public areas, such as parks, in 2015. By August 2019, a total of 511 fountains have been set, exceeding the 500-set target and meeting the drinking water standard. In the future, we will continue to promote the use of mobile direct drinking fountains in large events, in order to create the environment of direct drinking for citizens. Also, optimizations of the management and service of the fountains are undertaken throughout this project.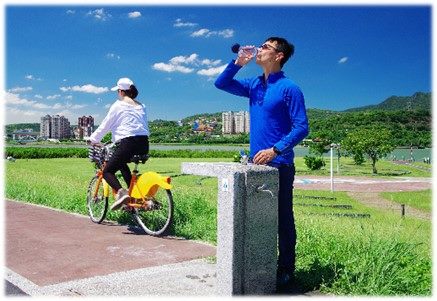 direct drinking fountain
direct drinking fountain