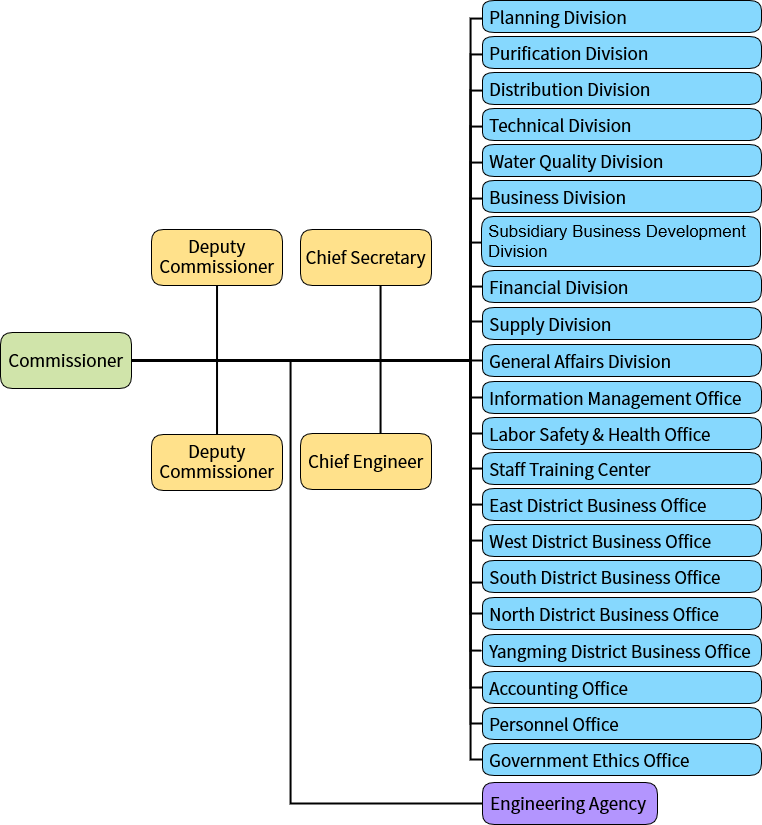 Planning Division-

Responsible for planning & development of operation, control and appraisal, legal affair and administrations.

Purification Division-

Responsible for operation, maintenance and management of water resources, water intake, purification and product water output facilities.

Distribution Division-

Responsible for monitoring, control and adjustment of water volume and pressure, management and improvement of pipeline network, pipeline inspection and leak test and planning, maintenance, operation and management of pressurizing equipment.

Technical Division-

Engineering requirements compilation and planning review, engineering technology and specification system development, engineering works supervision, engineering drawings, GIS and computer aided management, premise plumbing regulations, research and development, etc.

Water Quality Division-

Responsible for monitoring, testing, investigation, management and improvement of water quality as well as research and development of techniques in above fields.

Business Division-

Planning/management of business and customer services; water billing services,etc.

Subsidiary Business Development Division-

Business management of subsidiaries, etc.

Financial Division-

Responsible for funds raising, financial dispatching and adjustment, pricing of product water, property management and cashier.

Supply Division-

Responsible for procurement, bid invitations, material management.

General Affairs Division-

Management of clerical, archival, and general affairs and public relations operations and matters that do not fall under other units.

Information Management office-

Application systems development and computer equipment management.

Labor Safety & Health Office-

Planning and management of occupational safety and health, labor safety and health protection (OSHA) and disaster prevention business, and management of resident police force.

Staff Training Center-

Planning and execution of education & training and environmental education programs, etc.

District Business Office-

Customer Services, Meter Reading and Charge Collection, Water Distribution Services and Pipeline Networks Operation and Maintenance.

Accounting Office-

Handling budgeting, accounting as well as statistical services in accordance with related law and regulations.

Personnel Office-

Handling human resources affairs in accordance with related law and regulations.

Government Ethics Office-

Handling government ethics affairs.

Engineering Agency-

Management of water resources and expansion and improvement of water supply facilities.